GETTING TO MULL
If you have not already booked your ferry, do so now here. Hebridean ferries are not short of problems at the moment, but we should have normal service for the sportive weekend. But it is a busy time, so make sure you have your tickets.
If you can't get a ticket for Oban-Craignure, there are two other routes to Mull – Lochaline-Fishnish and Kilchoan-Tobermory. Both of these ferries do not require pre-booking, and if you turn up with a minimum of 2 scheduled sailings before the end of the day, you can be guaranteed of being carried.
The drive to both of those alternative ferries is longer if you are travelling from the south, but include some beautiful driving. Highly recommended if you have a little extra time. Be aware however that currently the Corran ferry across Loch Linnhe on the mainland is out of service, making the journey to Lochaline a little longer.
ACCOMMODATION
If you haven't got accommodation booked and are having difficulty finding some through the usual online routes, comment on our Facebook thread here.
REGISTRATION
Entrants should attend registration on Saturday 3rd June, between 6pm and 10:00pm, where you will be issued with your event number. Registration is where we also have our start and finish, at Hebridean Lodge Restaurant. It is on the A848 Salen – Tobermory road, as you enter Tobermory (just after the 30mph signs).
If you can't make it to registration on Saturday evening, please email us at info@mullsportive.co.uk .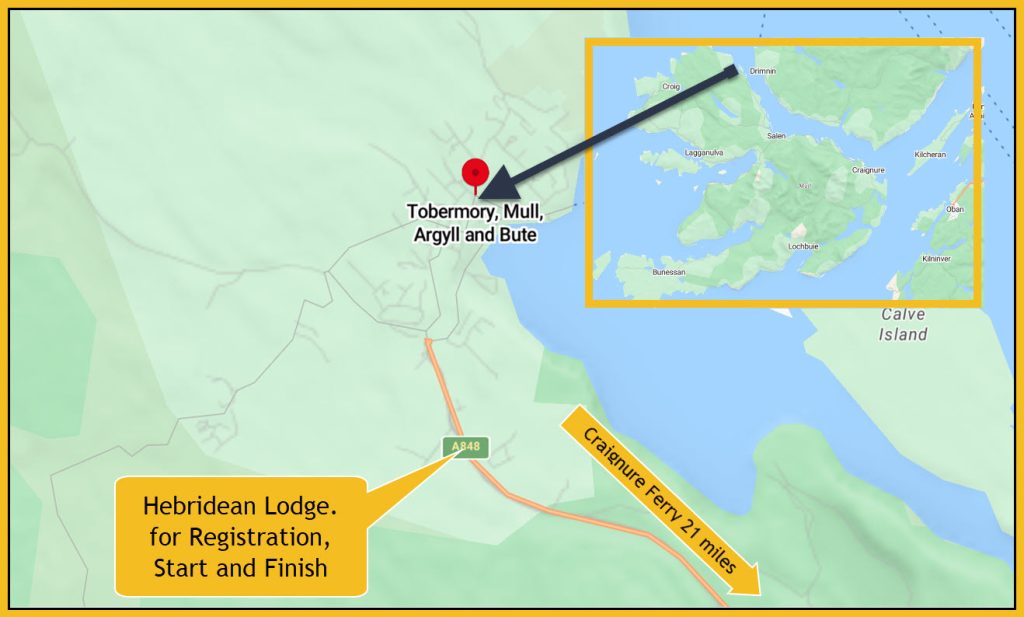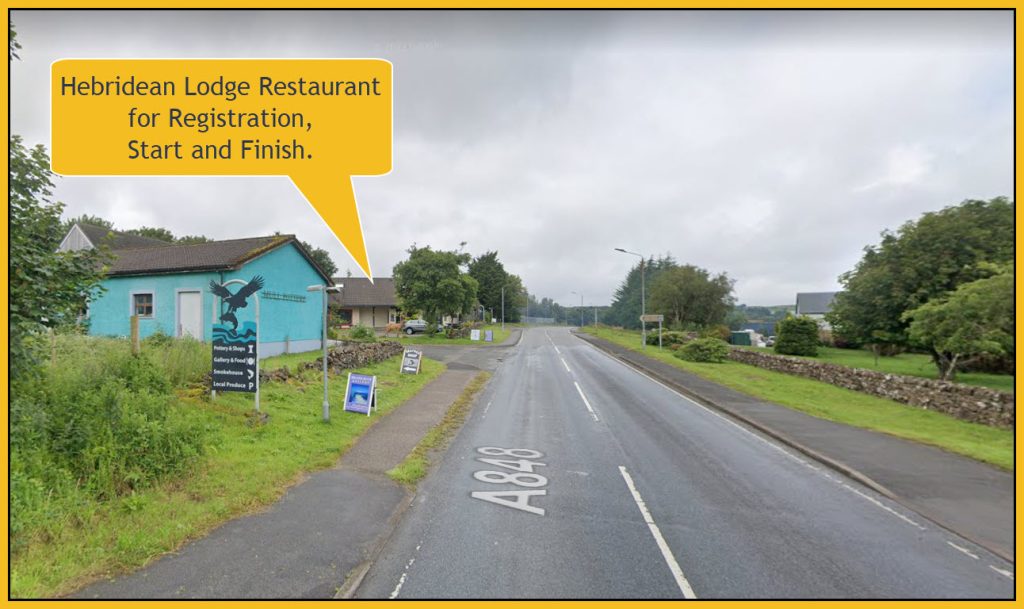 CHANGING YOUR CHOICE OF COURSE
If you wish to change course just let us know at registration.
THE START
The start and finish is just outside Hebridean Lodge Restaurant, Tobermory.
Start times:
Long course 8am
Short course 9am
There is limited parking, so please ride to the start if possible.
It will be a controlled mass start. A vehicle will lead out the riders at moderate speed for the first half mile. You must not overtake the lead vehicle.

FINISHERS MEAL
You will be provided with a finisher's meal at Hebridean Lodge, included in your entrance fee. Please be aware that this is subject to availability, and very late returners may be disappointed. You will be given a meal voucher when you arrive at the finish.
ROUTES
See Routes page for full details, profile and GPX download if required. The two routes are well signposted, and with few junctions.
TIMING
We are using an electronic timing system. You will be issued with a number containing a radio timing chip at registration. This must be mounted on your seat stem like the example below.
Your official time will be available at the finish line, and will be published on the website live as riders come in.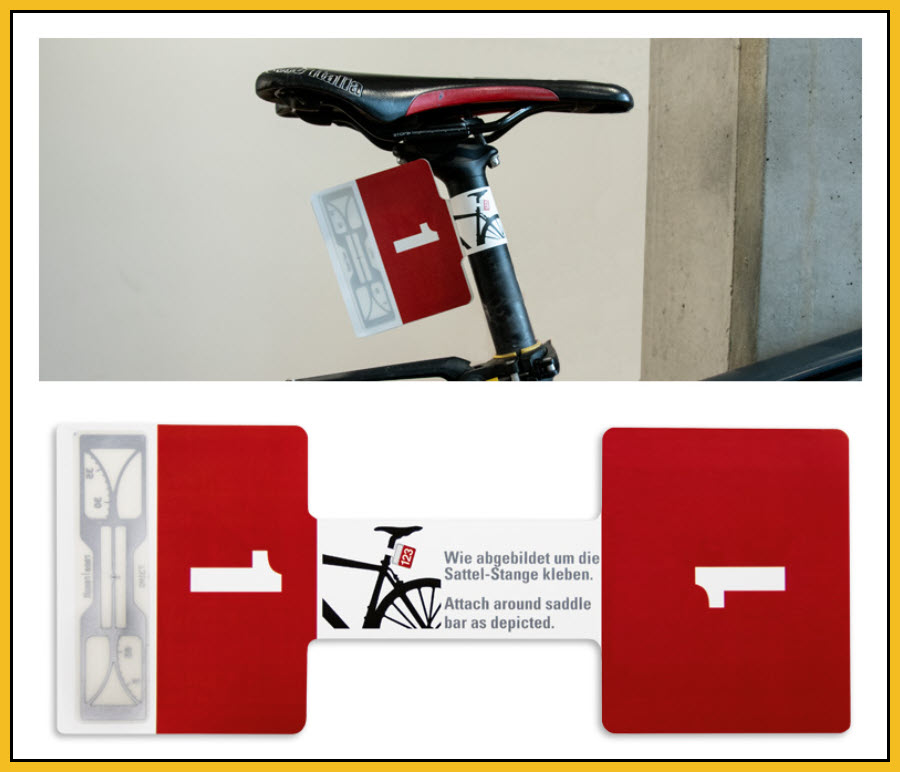 FOOD STATIONS
Thanks to the hard work and donations of volunteers, there will be two refreshment stops en-route.

SAFETY
First-aid cover for the day is being provided by trained Mull first-aiders. Their vehicles will be stationed throughout the island.
In the event of an emergency, ring 07766 241505. If you cannot complete the ride for any reason, please ring the same number. This is important – if you don't let us know that you cannot complete, we will start looking in ditches! You'll find the phone number also printed on your timing number.
Identify your location before you ring, ideally by stating which course you are on, and what distance you have completed.
A sweep vehicle will follow at the back of the field. If you need assistance, please wait by the side of the road in clear view.
YOU MUST
Wear a helmet at all times.
Ride carefully & with consideration for other road users
Remember that this is not a competitive event
Abide by the Highway Code
Take your mobile phone, but never use it whilst riding
Make sure your bike is well maintained
Carry everything you may need for road-side repairs and punctures

WE LOOK FORWARD TO SEEING YOU!